Amplify your surveying abilities with RTK techniques in areas with poor GSM coverage
---
One of the key GNSS-GPS accessories, the SETTOP Repeater allows for perfect transmission when operating in areas of low or no GSM coverage. Connected to any external UHF radio, the SETTOP Repeater automatically connects to a server or Continuously Operating Reference Station (CORS), allowing you to transmit NTRIP (Networked Transport of RTCM via Internet Protocol) corrections no matter how poor the GSM coverage. In addition, the SETTOP Repeater allows multiple users to work off a single Internet connection. Easy to use thanks to its touchscreen and intuitive interface, the SETTOP Repeater has an integrated modem and GPS and does not require any additional device for its configuration. Its autoconnection mechanism allows it to connect to the preconfigured corrections server without any additional action on the part of the user. If you choose to install it together with SETTOP RadioLink, our UHF radio module, you will also have an integrated solution with guaranteed compatibility between GNSS receivers with TrimTalk(r) and Satel® protocols. Often, topographic monitoring tasks require GPS Rover-RTK network connections in areas of low or no GSM coverage, meaning that NTRIP corrections are transmitted via radio. The SETTOP Repeater improves this configuration by allowing multiple users to work through a radio link and a single Internet connection, thanks to its integrated GPRS module.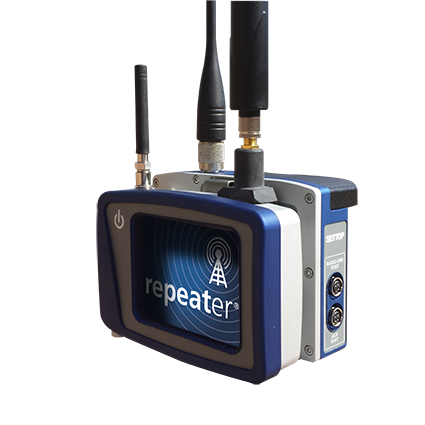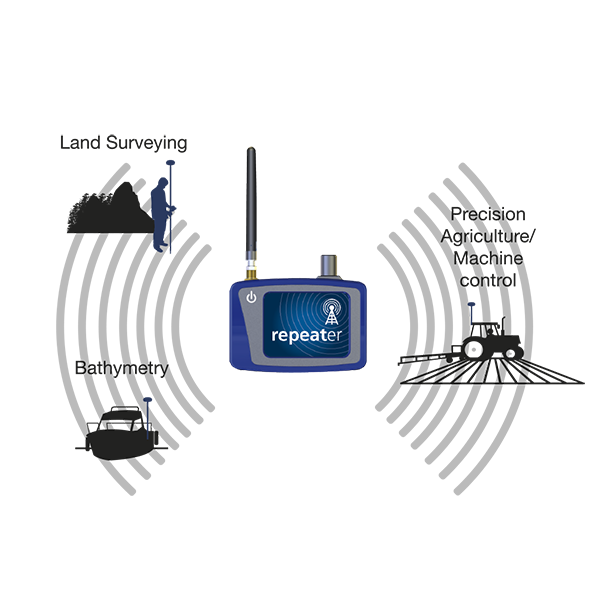 How do I use the SETTOP Repeater?
Designed to improve radio communications in areas without mobile coverage, the SETTOP Repeater improves GNSS-GPS communications, allowing you to transmit RTK corrections to multiple users connected via a UHF radio link with a single Internet connection. By not requiring the use of a defined geodetic point, users eliminate the need for a GNSS RTK Base Station. Compatible with any external radio on the market and using the integrated SETTOP RadioLink solution, the SETTOP Repeater has a variety of applications in topography, maritime works, machinery control, precision agriculture, and other fields.
Extremely resistant thanks to its anodized aluminium unibody casing, the SETTOP Repeater allows for improved communications in any topographic monitoring tasks where great measurement precision is required with NTRIP corrections in areas with low GSM coverage.
Benefits of the SETTOP Repeater
As experts in surveying equipment, at SETTOPSurvey we have designed a versatile and compatible repeater that not only improves your RTK communications via NTRIP, but does so in the most user-friendly way possible, improving ease of use.
Work in areas with little or no Internet coverage.
Send differential connections to multiple users via UHF radio using only one Internet connection.
No RTK Base Station required, as the SETTOP Repeater does not rely on a defined geodetic point in order to be discovered.
Install the SETTOP Repeater anywhere (in a car, on a tripod, in a site hut, etc.)
Automatic connection to the reference antenna (CORS) or to the corresponding services network with the press of a button.
Compatible with any external radio on the market and with the SETTOP RadioLink integrated radio. SETTOP can also provide custom-made cables for use in connecting with the repeater.
An intuitive, user-friendly interface configurable via touchscreen that also allows you to upload configurations from your PC.
The SETTOP Repeater has an autoconnection mode that eliminates the need to configure the repeater in the field. The SETTOP Repeater automatically begins transmitting RTK corrections as soon as it is powered up.
Our repeater is resistant and durable. Designed and produced in Europe, its anodized aluminum casing is one-piece, making it lighter, stronger, and more robust than other products on the market.