Industrial modem for GNSS/GPS Receivers
---
Improve your GNSS-GPS communications and receive NTRIP corrections in the simplest possible way. SETTOP CellXtrem is an industrial modem for GNSS-GPS receivers that increases the power and potential of any receiver through a 3.5G HSDPA high-speed connection. Configurable in either Base (server) or Rover GPS (mobile-client) Mode, the CellXtrem is a P2P solution that will expand the capabilities of your old or new GNSS-GPS receiver. With the SETTOP CellXtrem modem, transmitting or receiving corrections from NTRIP (Networked Transport of RTCM via Internet Protocol) has never been easier or more secure. Resistant and practical, the SETTOP CellXtrem is also small and lightweight. Its exclusive one-piece anodized aluminum casing has earned it an IP67 certification for resistance to dust and moisture. Additionally, its power is supplied by lithium-ion user-replaceable batteries, guaranteeing the capacity to carry out a full day's work.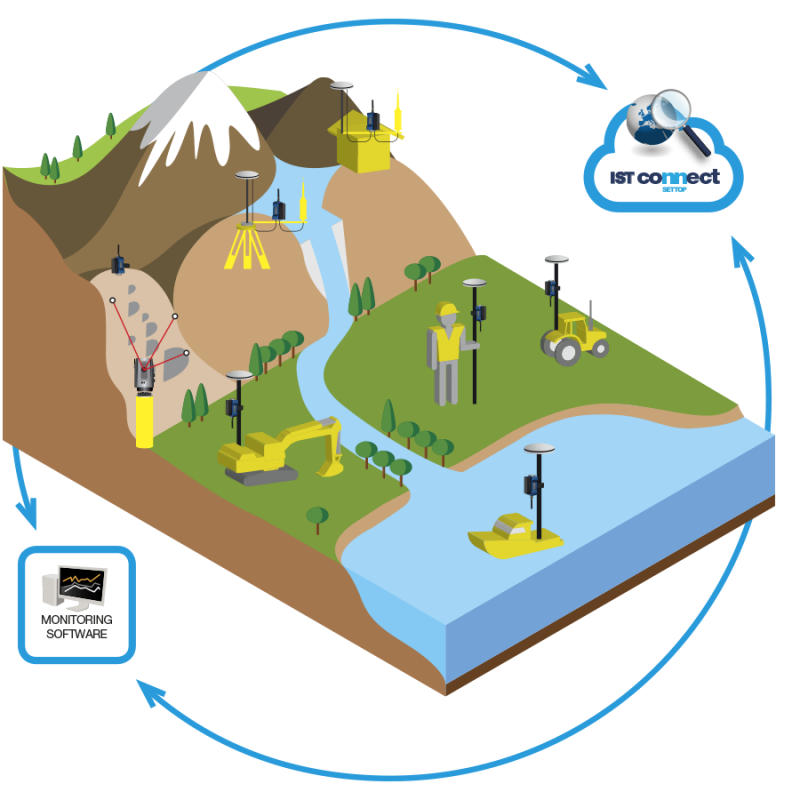 How do I use the SETTOP CellXtrem modem for GNSS-GPS receivers?
Thanks to its compatibility with most GNSS-GPS receivers, the SETTOP CellXtrem goes beyond the capabilities of a traditional GPS modem. It improves Total Station communications and increases the radius of coverage of your base station in comparison with traditional transmission via radio. In Rover Mode, you can connect as a client to a corrections server (transmitted directly via NTRIP), while in Base Mode you can generate your own corrections and retransmit them via NTRIP, easily converting your equipment into a CORS (Continuously Operating Reference Station). Designed to facilitate the work of your other topographic surveying equipment, the SETTOP CellXtrem modem and its software require a user-friendly initial configuration with the GNSS-GPS receiver of the object you wish to monitor (tractor, boat, crane, etc.), but do not require reconfiguration.
Benefits of the SETTOP CellXtrem modem for GNSS-GPS receivers
The versatility of the SETTOP CellXtrem will help you easily improve your communications, saving you time and money. Compatible with most receivers on the market, this modem will expand the capabilities of your GNSS-GPS receivers:
Extend the lifespan of your old GNSS-GPS receiver without an integrated modem or an older GPRS modem.
Automatically connect to your CORS system or other services network without having to set up a specific configuration.
Convert your receiver into a permanent reference station.
Using SETTOPSurvey's IST Connect cloud service, transmit RTK corrections from a base station via Internet using a SIM card, with no static IP required.
High-speed Internet connection (3.5G HDSPA).
Amplify your base's coverage in comparison with traditional transmission via radio.
Replaceable lithium-ion batteries give you the capacity to carry out a full day's work.
Durability and dust and water resistant, with an IP67 certification.
Send your sensor data over an Internet connection for easier and better topographic monitoring.