All in one GPS Survey Equipment
A GNSS receiver with Total Station remote control
---
The SETTOP M1 is a GNSS receiver that allows for remote control of a Total Station. It offers all the normal functions of a GNSS receiver and additionally communicates with surveying monitoring instruments via Wifi, Bluetooth, radio, ethernet, GSM and IST Connect. The versality and complete configurability of this product, as well as its size - the smallest on the market - have  made SETTOP M1 the go-to solution for topographic equipment monitoring. Its sleek one-piece design, with a casing of anodized aluminum that is both light and robust, have earned it an IP67 qualification for use in any type of climatic conditions.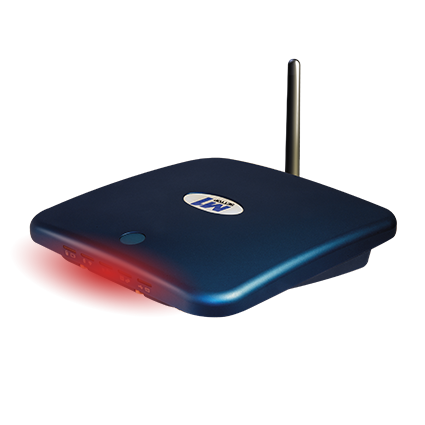 How to use the SETTOP M1
The SETTOP M1 can be mounted on a tripod and configured like a classic GNSS receiver for use in an office as a GNSS/GPS CORS (Continuously Operating Reference Station). Thanks to its internal battery and ability to obtain differential corrections through radio and NTRIP, it can also be anchored to a rod and used as Rover equipment for barometric bathymetric or land surveying terrain monitoring. In addition, the SETTOP M1 is useful in engineering and mining because of its ability to remotely control a Trimble Series S Total Station with FineLock. It can be used to independently and continuously monitor movement, terrain displacement, and deformations within a wide area, thanks to the raw data provided by the GNSS/GPS and the measurements taken by the Total Station.
Combined control of the internal GNSS receiver and a Total Station for monitoring tasks.
A GPS RTK receiver configurable as a base or a Rover, offering transmission and reception of differential corrections via radio, Internet, and Wifi.
Configurable as a Caster for the transmission of differential corrections to different clients via Internet.
Control of external devices connected to its communication ports (temperature and pressure sensors, inclinometers, etc.)
Auto-start functionality.
Highly customisable for individual project requirements, including adding new applications.
Configurable via Web interface.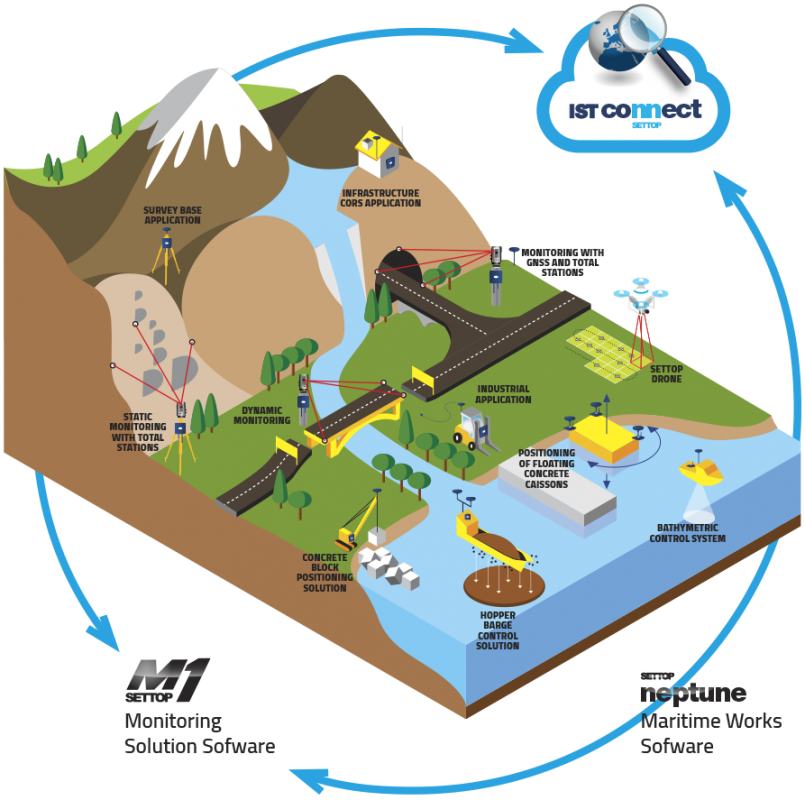 Benefits of the SETTOP M1
The technology within the SETTOP M1 cuts costs and time in your monitoring work by integrating a GNSS receiver with the ability to remotely control a Total Station.
An infrastructure and topographic receiver, together in one package.
Simple configuration of a CORS system (Continuously Operating Reference Station) without additional software. Manage it through a Web User Interface.
Using our IST Connect cloud service, set up a permanent Reference Station with only a SIM card and a dynamic IP address (no fixed IP address required).
A GNSS/GPS receiver that tracks all satellite signals.
Various ways to connect (Wifi, ethernet, cable, Bluetooth, USB, etc.).
3.5G high-speed Internet connection (HDSPA).
A broad coverage zone in comparison with a base that connects via radio.
Integrated 2-way radio compatible with the majority of receivers.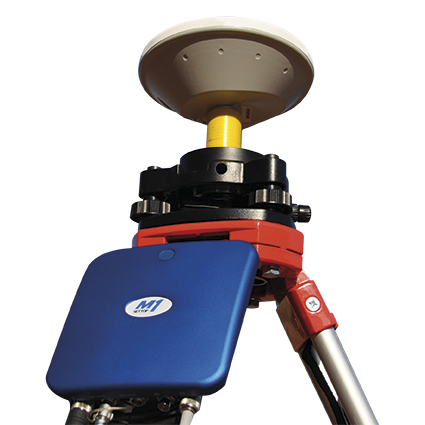 How the SETTOP M1 works
As a GNSS receiver with Total Station remote control, the SETTOP M1 is designed for a wide variety of uses that can be programmed through its intuitive Web interface. Combining the latest in topographic technology with data transmission, it can be configured various ways: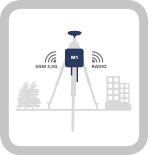 Base Configuration (Reference Station): Enter known base coordinates (projected or geodetic). Connect more than one instrument to the caster to receive differential corrections. Store post-processing data in the internal memory.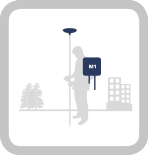 Mobile Configuration: Use the SETTOP M1 as Rover equipment with a data collector and the Settop GPS application. Collect data, stake out horizontal and vertical alignments, etc. Differential corrections can be received via radio or Internet by connecting to a caster.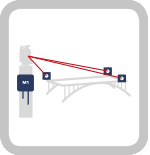 Combined Monitoring Configuration (GPS + Total Station): Collect GPS data while remotely controlling a Total Station performing sequential measurement tasks in order to monitor deformations and movements. All data are transmitted in real time via Internet to a server that analyses them. With its L1/L2 Glonass receiver, the Total Station can be installed in dynamic monitoring areas, as you can determine whether the instrument has moved and recalculate its coordinates.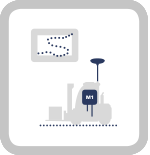 Adaptable Configuration: Additional functionalities can be added to the SETTOP M1 based on the specific requirements of your topographic equipment monitoring project. Contact SETTOP to discuss the development of new applications to be integrated into the survey equipment.